796 Japanese Baby Names With Meanings
A perfect blend of traditional and modern names, from Aki to Yuna!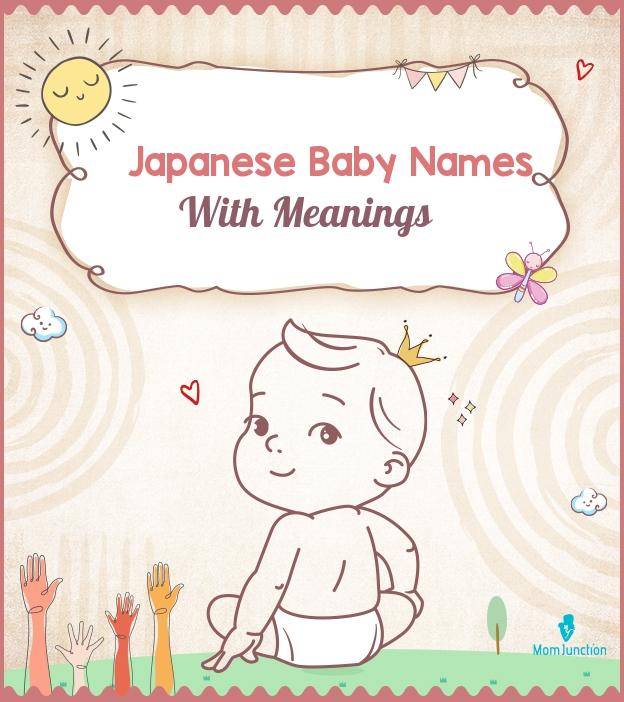 Japan, one of the most developed countries in Asia, not only has a long and rich history but also has a slew of adorable names to boot. If you are looking for Japanese baby names with meanings, you are spoilt for choice.  Japanese baby names do not just embody ancient Japanese beliefs but also echo their artistic forms like gardening, haiku poetry, architecture, and noble lifestyles such as the Samurai Bushido Code. Some names also reflect the birth order. Taro, for instance, means 'the first-born male'. Many names are also based on nature. Rio, meaning 'one who is like a river,' and Kiku, meaning 'chrysanthemum,' show the inextricable ties of the country with nature even despite futuristic advancements technologically. Moreover, names describing certain characteristics of the baby such as Makaira meaning 'one who brings happiness,' and Hideaki, meaning 'excellent,' are commonly used. Japanese names have also gained popularity in Western countries in recent years due to the growing popularity of anime and manga. Names like Mikasa and Akira are anime-based names that are slowly gaining popularity in the US (1). But whether you select a traditional Japanese name or a modern one, its meaning in Japanese is likely to be complex. That's because one Japanese name can have a plethora of meanings. Almost every Japanese name can be written in different ways using kanji. The Katakana and Hiragana style of writing may also result in different meanings (2). Hence, a simple Japanese name like Aki could have diverse meanings such as 'sparkle,' 'autumn,' 'bright,' 'clear,' 'morning sun,' and 'smart' depending on the kanji used. Moreover, in Japan, only children or familiar people are usually called by their given names. All others are addressed using their titles like -san or -sama (3).  Below is a list of Japanese baby names along with their meanings. Browse the tool to shortlist your most favorite names and create your baby name list.
Name
Gender
Meaning
Ahmya
Girl

Black rain; Higher ground

Ai
Girl

Love; Affection

Aia
Girl

One who is famous, Ruler of the house

Aika
Girl

Love song

Aiko
Girl

Little loved one

Aina
Girl

Beautiful eyed woman

Ainu
Girl

Goddess of fertility; Human-like

Aito
Boy

Sea; Ocean; Soar; Fly

Aizen
Unisex

Beloved; Affectionate

Akai
Unisex

Red

Akane
Girl

Red dye

Akari
Girl

Light; Brightness

Akemi
Girl

Bright, beautiful, dawn

Akeno
Unisex

Bright, shining

Aki
Girl

Autumn; Clear

Akiara
Unisex

A bright person

Akie
Unisex

Graceful, intelligent, serene

Akihiro
Boy

Bright, intelligent, gracious

Akiko
Girl

Clear; Crystal; Autumn season

Akio
Boy

Bright Man; Manly; Hero

Akira
Girl

Bright; Clear; Intelligent being

Akiro
Boy

Bright, intelligent, courageous

Akito
Unisex

Bright person; Autumn season

Akiya
Unisex

Bright; Autumn

Akoya
Unisex

Bright; Precious; Pure

Amane
Unisex

Peaceful, serene, tranquil

Amaya
Girl

Heavenly valley; Elevated place; Mother capital

Ami
Boy

Lord of my people

Aneko
Girl

An older sister; Versatile and spontaneous

Anzu
Girl

Apricot

Aoi
Unisex

Hollyhock; Green; Blue

Aoki
Unisex

An evergreen blue tree

Arai
Unisex

Arai - Noble, strong, elegant

Arata
Boy

Fresh; New

Arisa
Unisex

Beautiful future

Arisu
Girl

Righteous; Noble natured

Asa
Boy

Physician; Healer

Asada
Unisex

Essence of gratitude

Asahi
Boy

Morning sun

Asami
Girl

Beautiful

Asas
Boy

Physician; A healer; A beautiful morning

Asuga
Girl

Swift like the wind

Asuka
Girl

Tomorrow; Fragrance

Asuna
Unisex

Light, bright, morning

Atari
Unisex

Japanese word for success or victory

Aya
Girl

Design; Colorful

Ayaka
Girl

Color; Flower

Ayako
Girl

Reliable, gentle, peaceful

Ayame
Girl

Iris; A flowering plant

Ayami
Unisex

Exquisite and graceful

Ayane
Girl

A colorful sound

Ayano
Unisex

Colorful, serene, beautiful

Ayato
Unisex

Versatile and determined

Ayeka
Girl

Quick and analytical mind

Ayumi
Girl

Walk; Step

Ayumu
Girl

One who has a dream and a vision

Azami
Unisex

Flower or thistle

Azumi
Unisex

Safe residence; Peaceful dwelling

Bashira
Girl

Joyful; Predictor of Good News

Benjiro
Boy

Enjoys Peace

Bento
Unisex

Blessed; Blessing

Camie
Girl

Sweet, charming, and strong

Chiaki
Girl

Sparkling light

Chibi
Boy

Short person or small Child

Chiharu
Unisex

Springs and clear skies

Chihiro
Girl

Thousand armspans

Chika
Girl

Wisdom; Beautiful; Flower; God is greater

Chikafusa
Boy

The close one

Chikao
Boy

A clever and wise individual

Chiko
Boy

A pledge

Chimon
Boy

Gate of wisdom

Chiyo
Girl

Thousand generations

Chizue
Girl

Long life; Endurance; Durability

Cho
Girl

Butterfly

Chouko
Girl

Butterfly; an insect that feeds on nectar of flowers

Chuya
Girl

Pure and clear like water

Dai
Boy

A shining individual

Daichi
Boy

Great land; Great wisdom; First son

Daido
Boy

The greatest way possible

Daigo
Girl

Strength, greatness, enlightenment

Daiki
Boy

The noble one; filled with radiance and light

Daisuke
Boy

Great helper; Grand ritual; Large protector

Danno
Boy

Gathering; to put together

Danuja
Unisex

Knight; a ruler

Denji
Boy

One with electromagnetic powers

Doi
Unisex

Mountain; Earth

Eiji
Girl

Loved and independent being

Eiko
Unisex

Child of splendor

Eito
Boy

A very prosperous person; they are kind hearted

Eizan
Unisex

Sharp and intelligent

Emi
Girl

Beautiful picture

Emica
Girl

Charming; Blessed; Beautiful

Emiko
Girl

Beautiful child

Emiya
Unisex

Archer, Protector, Skillful

Ena
Girl

Grain; Peace

Enmei
Boy

Bright circle; Life sustaining

Enso
Unisex

Circle, Zen, Enlightenment

Escanor
Unisex

The shining one

Etsudo
Girl

Joy; Child

Fuji
Girl

Prosperous objective or flourishing opinion
Japanese names are growing in popularity due to their sweet sound and fresh appeal. Despite Japan showing tremendous technological advancements in recent years, their names remain rooted in their rich cultural heritage and values. From the simple Ai to the powerful Chikafusa, this list consists of a variety of Japanese baby names with their meanings to make it easier for you to pick one for your little one. These names map the entire country and come to you on a single page. Choose the best names for your baby from this list as they deserve nothing but the best.
Infographic: Amazing Japanese Baby Names For Boys And Girls
Japan has always been known for its rich cultural heritage. It is a country that takes both its past and its future seriously and makes sure both go hand-in-hand. From Akari to Nagi to Yuna, these names have diverse meanings and origins. Look at this infographic to know the most common Japanese baby names.

Frequently Asked Questions
1. What Japanese name means rare beauty?
Hayami is a Japanese name for girls that means rare beauty.
2. What Japanese name means sparkle?
Aki is a Japanese name that means sparkle and bright.
3. What Japanese girl name is lucky?
There are several Japanese names that mean lucky. Some of them are Kota, Yukito, Koki, and Sara.
4. How are Japanese names typically written and pronounced?
Japanese names are written in the kanji script, which consists of symbols that represent different words. These symbols also give rise to different pronunciations depending on the context of the name. In addition to this, some names might also be written in phonetic language, known as hiragana or katakana.
5. How have Japanese naming trends changed over time?
The naming trends of Japan have changed according to the period of time, surroundings, situation, and modernization. For example, before World War II, names such as kiyoshi (meaning innocence) and Masaru (meaning bravery). However, after the World War, people started to prefer names that mean happiness and new beginnings, such as Keiko (meaning grace) and Sachiki (meaning happiness).
6. How do Japanese naming traditions differ from other cultures?
In western culture, the first name is followed by the family name. However, in Japanese culture the family name comes first and then comes the first name of the person. But, in recent times, Japan has also started to put family names after the first name to keep up with modernization.
References:
MomJunction's articles are written after analyzing the research works of expert authors and institutions. Our references consist of resources established by authorities in their respective fields. You can learn more about the authenticity of the information we present in our
editorial policy
.
Look Up For Many More Names
Do you have a name in mind and want to know more about it? Or want to find names belonging to a particular origin, religion, or having a specific meaning? Use our search tool below to explore more baby names with different combinations.
The following two tabs change content below.