643 Irish Baby Boy Names With Meanings
Transport yourself to the Emerald Isle with these Irish-inspired choices.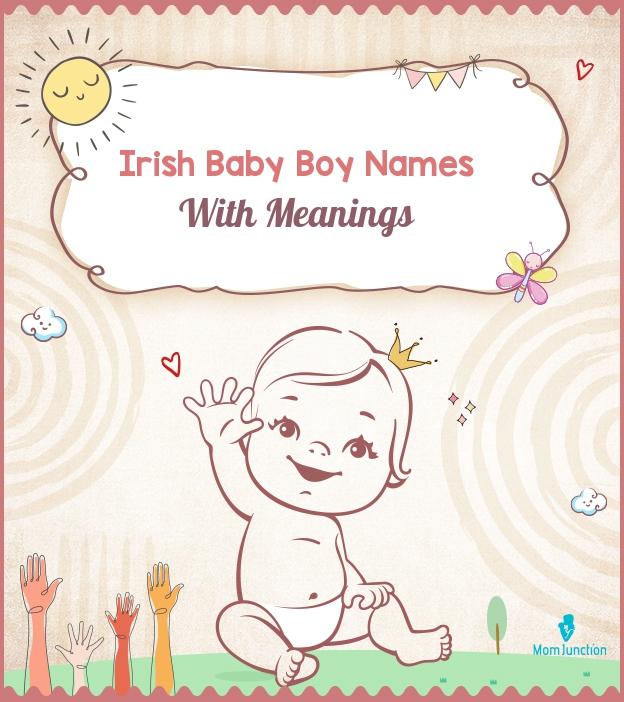 If you are looking for a baby name with a sense of strength, a touch of history, and enchantment, Irish boy names might be just what you're looking for. Consider it as choosing a name that is more of an intriguing story for your child to proudly carry throughout their life. Irish names come with a sprinkle of magic, like the fairy tales you might have heard. They're like a connection to a land known for its green beauty and charming myths, including leprechauns and fairies, amongst other mythological creatures. Irish names have a mix of traditional vibes and a modern twist. Some of these names have been around for ages, while others have taken a new shape to fit the evolving choices. One interesting aspect is that you can either spell them in the old Irish way or a more familiar English way. They typically have an English-Westen naming system and often have a first, middle, and family name, reflecting a strong sense of family connection. In Ireland, people can have both an Irish as well as an English name (1). Irish names aren't just for Ireland. They have been adopted in other places like Scotland and predominantly English-speaking countries. Furthermore, what's fascinating is that Irish names are more than mere syllables and words. They're like a doorway into the past. They connect you to the people who lived in Ireland way back and even those in other parts of Europe like Scotland and Wales. So, if you're looking for a name that encompasses more than its literal meanings but narrates a story and an adventure and carries a piece of heritage, Irish boy names might be the answer. So, go ahead and explore the magic of Ireland through their diverse and unique names listed below and give your child a bit of that Irish luck.
Name
Gender
Meaning
Adam
Boy

Son of the Earth

Conor
Boy

Dog; Wolf

Daniel
Boy

God is my judge

Harry
Boy

Ruler of the household

Jack
Boy

God is gracious

James
Boy

Supplanter

Luke
Boy

Bringer of light

Michael
Boy

Who is like God

Noah
Unisex

Rest

Sean
Boy

God's grace; Gift from God; Yahweh is gracious

Aaden
Boy

Fire and flame; Warmth of the home

Achill
Boy

An uncertain person

Adeen
Boy

Little fire shining brightly

Aed
Unisex

A fire; Flame; Burning fire

Aedbald
Boy

A bold or brave fire; A friendly fire

Aeddi
Boy

One who is made of fire; Fire powers

Aedh
Unisex

From the Scottish word Aodh; Fire

Aeker
Boy

Meadow of oak trees; Division of land; A variant of Ackerley

Aengus
Boy

One choice; A variant of the name Angus

Affleck
Boy

A field of stone; A habitational name to someone who belongs to the field of stone

Agwisance
Boy

A name of Irish origins that lost its meaning over the time

Ahearn
Boy

Lord of the horses

Aibhne
Boy

Interchanged; Tansmitted; Imparted

Aidan
Unisex

Little fire

Aiden
Unisex

Little fire

Aidenn
Boy

A variant of Aidan, little fire

Ailbhe
Boy

Bright

Ailise
Boy

Noble

Ailmer
Boy

Famous

Alaois
Boy

Famous in war; One who enjoys perks of life

Allen
Boy

Handsome; Harmony; Little rock

Alphonsus
Boy

Noble and ready

Aodh
Boy

Fire; Brightness; Splendour

Aonghus
Boy

One Choice; A variant of name is Angus

Art
Boy

Strong man; Bear

Augustine
Boy

To increase; Venerable; Great

Awnan
Boy

A little Adam; fun loving person

Banagher
Boy

Pointed Hill

Bannon
Unisex

White

Banny
Boy

Petite and good-looking

Barry
Boy

Fair-headed; Spear; Sharp

Bary
Boy

Fair headed; Spear; Mound; Dune; Brave

Baudkin
Boy

Tribes of Galway

Baylor
Boy

Goods deliverer; Bailiff

Berihert
Boy

He who comes from the south; The son of the south

Bolan
Boy

He who is a little poet

Bourke
Boy

Fortified hill; Fortified settlement

Bourn
Boy

A small river

Bourne
Boy

A small seasonal river

Boyden
Boy

messenger

Bracken
Boy

Descendant of Breacán

Braddon
Boy

Broad hillside; Practical nature

Bradford
Boy

A person who hails from a broad ford

Bradfurd
Boy

Alternate spelling for "Bradford"; From the broad ford

Bradi
Unisex

Used as a surname; Descendants of the family Bradach use this name

Bradie
Unisex

Proud; Spirited

Bradig
Boy

Person from a broad valley; Used as a surname

Bradon
Boy

From a broad grassland; Hailing from a broad meadow

Brady
Boy

Spirited

Braedan
Boy

A hillside that is broad and spacious

Braeden
Boy

Broad hill

Braedon
Boy

Broad; Spacious; Wide; Large and big

Brandon
Boy

Prince; Chieftain; Gorse hill

Brangian
Boy

Refers to a tiny gobble

Brannon
Boy

Bird resembling a crow

Brayden
Boy

Broad valley; Wise; Brave

Braydon
Boy

A wide hillside

Breck
Boy

Person having a spotted skin or a freckled skin

Breckan
Boy

Spotty face

Brecken
Boy

Freckled; Speckled

Breckin
Boy

Freckled face; Spotted face

Breen
Boy

Upset or saddened

Brendan
Boy

Fiery hill; Prince; King

Brendann
Boy

Prince of the kingdom

Brendin
Boy

Prince

Brendon
Boy

The king's heir; Prince

Brendyn
Boy

Prince of a kingdom

Brenn
Boy

Prince; Kingdom successor

Brennan
Boy

Rain; Moisture; Drop

Breslin
Boy

Surname

Brexton
Boy

Freckle-faced boy

Breyson
Boy

Son of a powerful woman

Briac
Boy

One with force and strength

Brian
Boy

High; Noble; Hill

Brien
Boy

A high noble man

Brinsley
Boy

A high man from the field

Brion
Boy

A brave man of many virtues

Brisan
Boy

Man of valor and strength

Brison
Boy

A person of valor and bravery

Broderic
Boy

A brotherly person

Broderik
Boy

A brother

Brodrik
Boy

A brotherly one

Brogan
Boy

Little shoe; Son of Brogan

Brone
Boy

A person full of sorrow

Bronich
Boy

A sorrow man

Bruis
Boy

One who lives in a mansion

Brumant
Boy

An Irish Boy name with lost meaning

Bry
Boy

A man of great strength and power

Bryan
Boy

Strong; Virtuous; Noble

Bryant
Boy

He who ascends to heights
Irish baby names connect us to Ireland's lush landscapes, Scotland's misty hills, and more. When you pick an Irish boy name for your baby, you're not just making a choice but giving them a piece of the past, a hint of legendary tales, and a taste of Ireland's unique charm. So, as you think about what name to choose, remember that each Irish name holds the spirit of a people who hold their traditions in high esteem while also embracing change.
Infographic: Enchanting Irish Names For Baby Boys
From valiant warriors to divine blessings, Irish boy names hold deep meanings rooted in the rich culture of Ireland. Each name carries a special trait that reflects Irish culture. In our infographic, you'll find carefully chosen names with deep significance. Choose a name that truly connects with you and your values. Dive into the infographic and gift your child a name full of history and meaning.

Frequently Asked Questions
1. Which Irish boy's names mean gift from God?
The Irish variant of John, Sean, translates to a gift from God or God is gracious. Other less common Irish names such as Ted, Ivan, and Mait also signify a similar meaning that implies the gift of God, among other things.
2. Which Irish boy names mean king and prince?
Several common and unique Irish names imply a king or a stately figure. Bréanainn, the classic variation of Brendan, means king and prince, Ruairi means a red-haired king and the short name Rian means little king.
3. Which Irish baby boy names are easy to pronounce for non-Irish speakers?
There are many Irish boy names that non-Irish speakers may find easier to pronounce as they consist of fewer syllables and simple spelling. These include Aidan, meaning little fire; Shay, meaning fine or learned; Conor, meaning lover of hounds; and Flynn implying blood red.
4. Which Irish boy names mean handsome?
Cullen is a popular Irish boy name that means good-looking and is also a surname. Another name Kevin, deriving from Caoimhín, also implies handsome.
5. Which modern Irish baby boy names are gaining popularity?
As of 2021, According to the Central Statistics Office, Jack has been the most popular name for boys in Ireland since 2007. James and Conor come after Jack, and all three hold a position among the top five names (2).
6. Which Irish baby boy names are inspired by Irish mythology?
Finn, which means fair, was another name for Fionn mac Cumhaill, a hero in Irish mythology with a magic thumb that gave him wisdom. Conall is another Irish name and means strong wolf. Conall Cernach is revered as a hero of the Ulaid, the Gaelic over-kingdom in the Ulster Cycle (medieval Irish heroic legends) of Irish mythology.
References:
MomJunction's articles are written after analyzing the research works of expert authors and institutions. Our references consist of resources established by authorities in their respective fields. You can learn more about the authenticity of the information we present in our
editorial policy
.
Look Up For Many More Names
Do you have a name in mind and want to know more about it? Or want to find names belonging to a particular origin, religion, or having a specific meaning? Use our search tool below to explore more baby names with different combinations.
The following two tabs change content below.