145 Baby Boy Names That Start With Letter U
U-phoric, upbeat, and unique names for your little prince.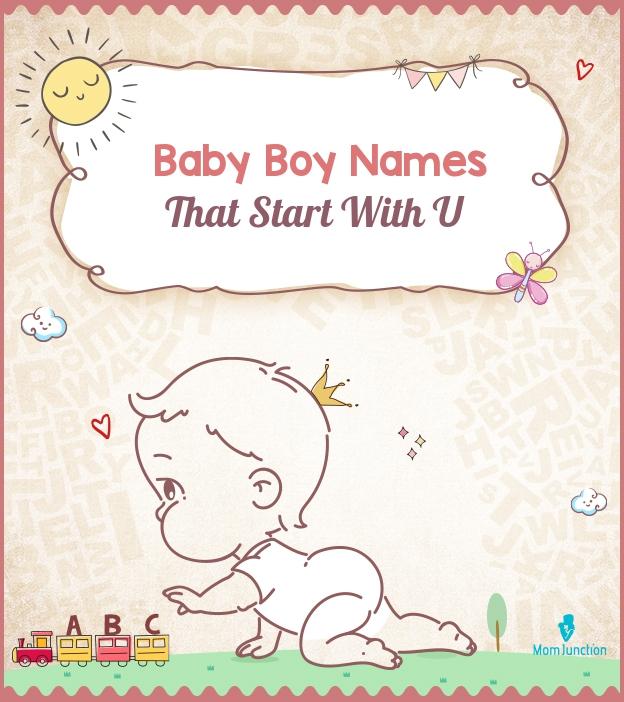 Parents who want an original name for their baby boy should look no further than the letter U. For ages, the letter U has ranked as one of the favorite letters to begin a baby boy name. That's primarily because this letter has some of the most distinctive names in its kitty, which can make anyone stand out from the crowd.
One of the most widely recognized names beginning with U is Urien, an Old Testament name of Hebrew origin, which is also used as a variant of Uriel and Uriah. This moniker has been used in Britain since the Middle Ages and has started gaining favor in America as well.
Another familiar name with this letter is Ulysses, the Latin variation of the Greek name Odysseus. This distinguished and weighty name is associated with the protagonist of the James Joyce novel of the same name.
But the list doesn't end here. There are hundreds of unique and unusual baby boy names starting with U, which are probably undiscovered. And MomJunction has listed almost all of them in its baby name tool. Not just the name, we've even included meaning and origin of each of these names. So take a look!
Name
Gender
Meaning
Ubaid
Boy

Faithful

Ubaida
Boy

Servant of God

Ubaidullah
Boy

Servant of Allah

Uberto
Boy

Bright mind; Intelligent; Bright Spirit; Italian form of Hubert

Uchadev
Boy

One of the names of Lord Vishnu

Uche
Unisex

Gift of God

Uchenna
Unisex

God's will

Uchith
Boy

Correct

Udai
Boy

To rise; The rising

Udaki
Boy

The king of Minni

Udanda
Boy

Nemesis of evils and vices

Udant
Boy

The correct message

Udar
Boy

Generous

Udarathi
Boy

One of the names of Lord Vishnu

Udarchis
Boy

A name of Lord Shiva

Uday
Boy

Rising sun

Udayachal
Boy

The eastern horizon

Udayan
Boy

Uprising

Udbhav
Boy

Creation; To arise from

Udeep
Boy

Flood

Udgam
Boy

Rising star

Udit
Boy

Rising or awakened

Udo
Boy

One with great fortune

Udolf
Boy

A wolf ruler

Udumebraye
Boy

My presence gives them heartache

Ueman
Boy

Venerable time

Uggi
Boy

Fear of something; Phobia

Ugo
Unisex

Heart; Mind

Ugochukwu
Boy

God's eagle or God's glory

Ugyen
Boy

To grow

Uhila
Boy

Lightning

Uhtred
Boy

Prosperous warrior

Uhwokori
Boy

One who is born in Uhwokori

Uilliam
Boy

Resolute protector; Strong-willed guardian

Ujesh
Boy

The one who gives light

Ujjal
Boy

Bright; Clean; Lovely

Ujjwal
Unisex

Bright, luminous

Ujurak
Boy

Variant of Ujarak, meaning rock

Ujwal
Boy

Bright, radiant, brilliant

Ukubu
Boy

Reward

Ula
Unisex

Bringer of wealth or jewel

Ulagan
Boy

A worldly man

Ulbrecht
Boy

Famous for his inheritance; Nobly famous; Aristocratic and bright; A variation of Albert

Ulfert
Boy

Protector of the inheritance

Ulfhrafn
Boy

Combination of the words wolf and raven

Ulfr
Boy

Wolf

Ulfred
Boy

Wolf of peace

Ulhas
Boy

Delight; Joy

Uli
Boy

A noble leader

Ulises
Boy

Variation of Odysseus; To hate

Ulisses
Boy

Angry; To hate

Ulman
Boy

Man from Ulm; A variation is Ullman

Uloho
Boy

Iroko tree

Ulric
Boy

Powerful, noble, ruler

Ulrich
Boy

Heritage ruler

Ulrik
Boy

Noble ruler

Ulugbek
Boy

Great chieftain

Ulysse
Boy

Adventure, cunning, hero

Ulysses
Unisex

Heroic journey; clever and resourceful

Ulzhalgas
Boy

Son or boy that continues the line

Umair
Boy

Intelligent and noble

Umaiza
Unisex

Bright and intelligent; Generous and virtuous

Umakant
Boy

A name of Lord Shiva; Husband of Uma

Umama
Unisex

Motherly, caring, nurturing

Umamah
Unisex

Little queen or young princess

Umanga
Boy

Enthusiasm; Excitement; One who is full of enthusiasm

Umar
Boy

Variant of Omar; Flourishing

Umarah
Boy

A non-mandatory pilgrimage made by Muslims to Mecca

Umaya
Unisex

Hopeful or aspiring

Ume
Unisex

Plum blossom

Umer
Boy

Life, longevity, prosperity

Umesh
Boy

One of the many names of Lord Murugan; God of Uma

Umi
Unisex

Sea or ocean

Umiaktorvik
Unisex

River

Umme
Unisex

Mother, servant, respected

Ummehani
Unisex

Mother of desire

Umoja
Boy

Unity; Harmony

Umrah
Unisex

Pilgrimage, Islamic, spiritual journey

Umukoro
Boy

Young man

Umut
Unisex

Hope or optimism

Un-Nefer
Boy

God of the dead

Unfrid
Boy

One who gives peace

Unity
Unisex

Harmony, togetherness

Universe
Boy

Infinite cosmic existence

Unnabh
Boy

Highest; The peak

Unnat
Boy

Progress; Development

Upangshu
Boy

Winner

Upanshu
Boy

Chanting the hymns or mantras in a low-tone

Upendra
Boy

One of the many names of Lord Vishnu

Upendranath
Boy

One of the many names of Lord Vishnu; A variant of Upendra

Upravda
Boy

The upright one

Upshobhin
Boy

He who is brilliant and bright

Uras
Boy

The God of light

Urbain
Boy

Of the city

Urh
Boy

Slovene form of Ulrich; Prosperity and power

Urhie
Boy

River

Uri
Boy

God is my light

Uriah
Boy

God is my light

Urias
Boy

God is my light

Urie
Unisex

My light; My flame
Infographic: Spectacular Names Starting With The Letter U
Names starting with U may have distinct meanings, granting a child an exceptional persona. Diverse factors, including personal inclinations, culture, and family, could shape parental naming choices. If you're considering giving your little prince a name starting with the letter U, explore our infographic for an array of options.

Frequently Asked Questions
1. What are the origin and meaning of the baby boy names Uriel and Ulysses?
Uriel is derived from the Hebrew name 'Uri'el, meaning 'God is my light.' It consists of the elements' ur' meaning 'light' or 'flame' and 'el' meaning 'God.' Uriel is the name of an archangel in the Hebrew Bible.
Ulysses is the Latin form of Odysseus, meaning 'to hate.' Ulysses is the name of the novel by Irish author James Joyce, and it is loosely based on Homer's Odyssey.
2. Can you suggest some modern baby boy names with a strong meaning that starts with the letter U?
Baby names like Uri (my light), Ugo (mind, thought, spirit), Usher (happy, blessed), and Upton (upper town) are modern names starting with the letter U.
3. How popular is the name Uriah?
In 2022, the name Uriah (Yahweh is my light) ranked 696th, only two places down from 2021. It is among the top 1000 names in the US (1).
4. What are some nature-related baby boy names that start with the letter U?
Baby boy names like Ulf (Swedish name meaning 'wolf'), Ulric (English name meaning 'wolf ruler'), Uʻilani (Hawaiian name meaning 'heavenly beauty'), and Urki (Basque name meaning 'birch tree') start from U and are related to nature.
5. What are some baby boy names that start with the letter U and have a Biblical origin?
Apart from Uriel and Uriah mentioned above, names like Uzziel (my power is God) and Uzziah (my power is Yahweh) appear in the Bible. Uzziel was the grandson of Levi, thus becoming the uncle of Moses, Miriam, and Aaron. Uzziah was Amaziah's son and Judah's king for 52 years. Both appear in the Old Testament.
References:
MomJunction's articles are written after analyzing the research works of expert authors and institutions. Our references consist of resources established by authorities in their respective fields. You can learn more about the authenticity of the information we present in our
editorial policy
.
Look Up For Many More Names
Do you have a name in mind and want to know more about it? Or want to find names belonging to a particular origin, religion, or having a specific meaning? Use our search tool below to explore more baby names with different combinations.
The following two tabs change content below.